Mutoh ValueJet 1638X Joins The Team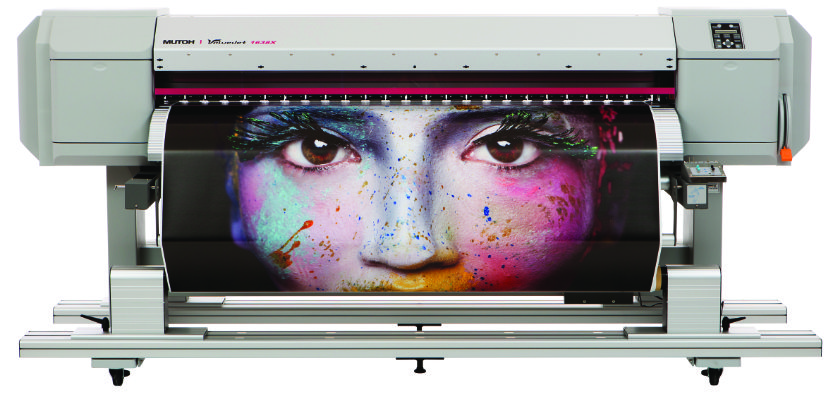 Mutoh ValueJet 1638X Joins The Team
We are always investing in state of the art printers at Inksplash. That is why we decided to add the Mutoh ValueJet 1638x to our lineup.  There is a lot of options out there, and you could spend months researching, which we did. We decided the Mutoh was the best choice for what we needed.
Staggered Dual Head Setup:
The ValueJet 1638X printer incorporates a staggered dual-head setup with the latest generation piezo drop-on-demand variable drop print heads. Each 1440-nozzle head (8 lines of 180 nozzles) includes four colour sections, divided into two nozzle rows with 360 nozzles per colour.
The print head is capable of producing ink drops ranging from 3.5 pl to 35 pl. Bottom line, it can produce a broader range of ink dots, which are moreover jetted at a much faster speed compared to other print heads on the market. The result is speedier output speeds and furthermore a much better print quality at higher output speeds.
Mutoh's Universal Mild Solvent inks (UMS):
Mutoh's Universal Mild Solvent inks (UMS) are Mutoh's fourth generation mild solvent inks. The UMS inks have been developed explicitly for volume-oriented users. Available in cassettes, litre bottles & ink packs, UMS inks feature best-in-class ingredients for optimum speed and quality performance. The inks are based on a new generation of milder & non-aggressive solvents and do not spread any harmful VOCs in the working environment. They are virtually odour-free and do not require any forced ventilation. Prints made with UMS inks are water resistant and offer an outdoor UV-resistance of up to three years*.
* : For heavy-duty applications where mechanical stress is involved (floor & vehicle graphics), lamination is required. Stabilisation is needed before lamination.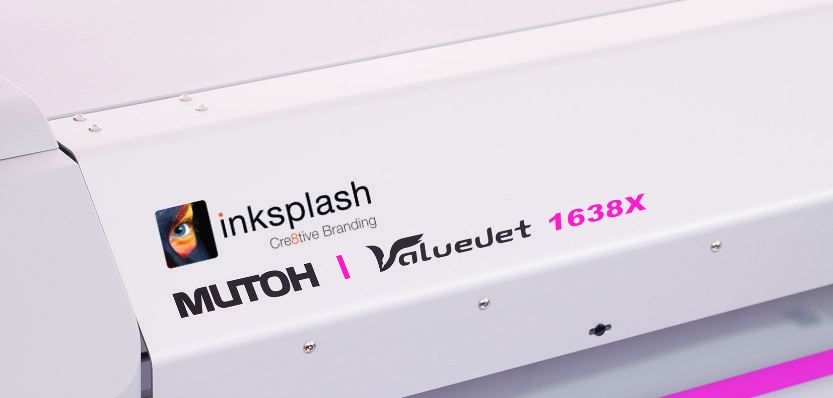 Stunning Performance:
The VJ-1638X printer offers you a wide range of print modes and speeds. The overview below lists the most popular ones with which excellent printing quality can be obtained.
High Quality – 1080 x 1440 dpi : 10 m²/h
Quality – 720×1440 dpi: 15 m²/h
Quality Production – 720 x 1080 dpi – 20 m²/h
Production – 720 x720 dpi: 29 m²/h
Speed Production – 720 x 720 dpi : 36 m²/h
Check out the full spec from Mutoh: LINK
https://www.inksplash.ie/wp-content/uploads/2017/10/blog-header-blue.jpg
398
833
Dazzler
https://www.inksplash.ie/wp-content/uploads/2016/05/Inksplash_NewLogo-300x97.png
Dazzler
2017-12-14 11:01:39
2017-12-14 11:01:39
Mutoh ValueJet 1638X Joins The Team